Advanced Fire Systems, Inc. provides individualized fire safety equipment solutions in the form of suppressant systems, lighting and extinguisher cabinets to both commercial and industrial customers throughout the state. Let us make sure your building is fully-equipped for safety in the event a fire breaks out.
Industrial Fire Systems Sales & Installation

Your industrial facilities need to be outfitted with the right industrial fire protection equipment in Cape Coral, FL to ensure the safety of everyone working there. We sell and install systems that are tailored specifically to industrial environments. From the suppression system itself, to any peripheral lighting and signage, we've got you covered.

Exit & Emergency Lighting Installation

Lighting and signage systems are crucial for fire safety equipment musts. We'll walk through your building and pinpoint areas where lights and signs are required for awareness and evacuation—including exits and access routes. We have access to all of the necessary installations required by code and will make sure your building is well-marked for fire safety.

Fire Suppression System Maintenance

In areas like commercial kitchens or paint booths, where fire suppression systems in Cape Coral, FL are an absolute necessity, we repair your system to ensure it's working effectively in the event it's needed. Call us for fire extinguisher inspections, routine testing and repairs and leave nothing to chance in the event of a fire.

Fire Extinguisher Systems & Cabinet Supplier

In commercial buildings, extinguishers and cabinets are a must-have. We supply these products to all types of businesses, giving you the on-demand deterrents you need to face a developing fire.
Fire Prevention Consultations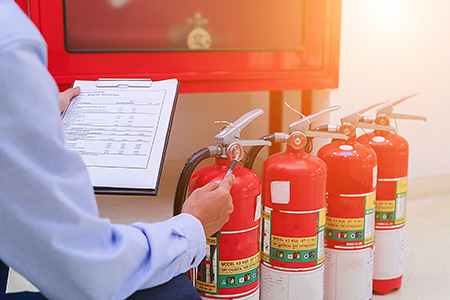 Are your facilities protected against fire? We'll make sure they are, with a thorough fire prevention consultation. Our experts will assess the entirety of your facilities to see where hazards exist, what protective measures you currently have in place, what's missing and what solutions are best tailored for you. From specialty suppressant systems for commercial kitchens, to spray booth fire systems in Cape Coral, FL, we make sure you're getting targeted solutions with fire protection systems.
To ensure your facilities are protected against fires and up to code when it comes to signage and lighting, contact Advanced Fire Systems, Inc. today at 239-573-1100 for fire extinguisher systems. We'll provide you with an in-person walkthrough and estimate on exactly what's needed to keep you safe.